Evexia Medical & Rehabilitation Center
Evexia is a specialist in accessible holidays in Greece. With deep understanding of the particular needs, considerations and wishes of the disabled traveller, it offers an unprecedented level of accommodation and services. Exclusively dedicated to guests with less mobility and their companions, who wish to go beyond problem solving and enjoy top-class, relaxed, secure and carefree holidays in Greece, Evexia is here to ensure that every detail has been thought out. This makes your holidays not just accessible, but more than that. Perfect.
In Evexia they truly understand mobility impairment. Their 20 years of experience in medical and rehabilitation treatment led them create the ideal accommodation: Fully equipped spacious rooms designed for wheelchair movants, accessible exterior grounds, recreation and support facilities, especially equipped vans and buses for transportation, and an expert medical staff of all practices available 24 hours. All these, together with the dream location, the stunning views and the 300 days a year of sunshine, make Evexia the ideal choice for vacations all year round.
If you are travelling to Greece, either individually or as a group, Evexia will exceed your expectations.
FEEL SECURE AND SUPPORTED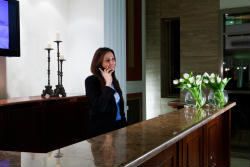 In Evexia you can enjoy a pleasurable stay and combine it with beneficial exercise that will help improve your body strengths and abilities. Their team comprises of doctors and highly qualified therapists and nurses.
Services include:
• Group of expert doctors - Physiatrist, Internal Medicine Physician, Cardiologist, Pneumologist, Orthopedic, Radiologist Neurologist, Intensive Care Physician, Microbiologist and 24 hours medical support team
• Nursing care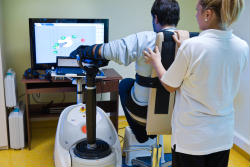 • Fully accessible pools
• Recreation and Activities
• Physiotherapy
• Microbiology and radiology laboratories 24/7
• Rehabilitation programs (upon request)

Rehabilitation programs
20 years of experience in Rehabilitation services, Modern high technological equipment in combination with their trained personnel, allows them to create a rehabilitation program of high effectiveness. They have quality certified services and they undertake neurological disorders such us multiple sclerosis, brain injury, stroke, Parkinson, paraplegia, tetraplegia. They apply and follow the principles of Neuro-rehabilitation, innovative therapeutic methods, gait and upper limb robotic systems, balance training, complete valuation, management and training of upper limb system, cognitive disorders training and activities of daily living. For children with neurological disorders they follow an internationally renowned therapeutic brain neuro-functional reorganization technique named Padovan. For rheumatic diseases such us rheumatoid arthritis they have perfect climatic conditions and they apply appropriate rehabilitation programs and programs to a specially designed pools.
Experience your room
Contrary to rooms that have been modified for accessibility, Evexia's rooms are designed and built explicitly for wheelchair users. Spacious and comfortable, functional and beautifully decorated, they include:
- electric reclining beds fully adjustable that can raise in height up and down, so you won't struggle in and out of bed and be more independent.
- memory foam mattress which is temperature sensitive, pressure-relieving and moulds itself to the contours of your body for a restful and more comfortable sleep.
- portable side table with storage that can support your laptop or book while you are lying down.
The bathroom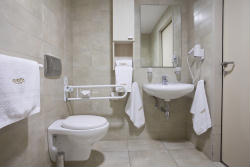 Fully accessible, with enough space to allow a wheelchair to turn, with power elevating toilet seat lift with arms, and built according to the international safety standards, your room's bathroom will be adding to your carefree holiday experience.
Additional services
· 24 hours medical support and nursing care
· Daily room cleaning service
· Visual and sound alarm in every room
· 24 hours fire protection squad that will coordinate and assist your safe removal from the building in the case of an emergency.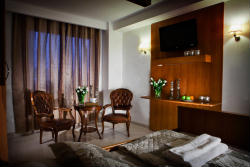 · Laundry services (after request)
· Free WiFi in every room
· Satellite TV in every room
· Hair Dryer
· Bathroom with wheel-in shower
· Mini bar fridge
· AC in every room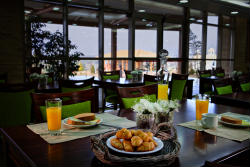 · Electric adjustable reclining bed
· Rolling resource cart
· Grab rails in shower
· Grab rails by toilet
· Bath robe
· Face towels
Feel safe and secure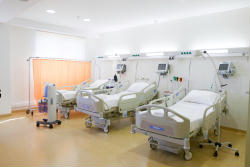 In Evexia your holidays have the quality you deserve. By removing insecurities concerning your medical support, you can trully relax and enjoy. The hospitality is much more than just accommodation. In Evexia you can have:
a. any doctor you need, any time. Expert specialized doctors such as rehabilitation doctors, pathologist, cardiologist, pneumonologist, respiratory physician and orthopedic are at your disposal 8 hours a day on a daily basis, and doctors that provide their services 24 hours a day.
b. medical check ups without leaving the premises, including x-rays, ultrasounds, electrocardiograms and microbiological tests.

c. nursing care from highly trained experienced personnel at all times.
d. rehabilitation treatment, should you wish to combine it with your stay.
• spine rehabilitation treatment
• chronic pain treatment
• Rehabilitation Rheumatic Diseases
• Neurorehabilitation
• Gait and upper limb robotic treatment
Recreation and Support Facilities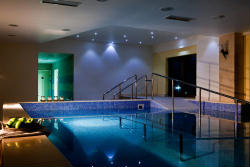 Evexia's fully accessible recreation facilities will free your movement further.
Utilize and enjoy:
• Our accessible outdoors swimming pool with jacuzzi, specifically built for guests with less mobility. An automatic, water powered disability access lift together with an aquatic wheelchair that will help you to enter and exit the pool.
• Fully accessible gardens and open spaces where you can move freely and enjoy the nature and the sun. In other words, we have created a luxurious and comfortable environment for our guests in a territory with sea view.
• Fully accessible restaurant and café with outdoors terrace, where you can have your breakfast and taste high quality Greek and Mediterranean meals and snacks.
Accessible transportation vehicles

When you have mobility issues, transport can make or break a great holiday. It is important to be able to enjoy every moment of your precious free time without having to worry about it. Evexia owns:
• 2 accessible buses with electric lifts suitable for seniors and wheelchair users

• 1 accessible bus with electric lift that can carry 12 seated guests and two in wheelchairs.
• 1 accessible van with electric lift that can carry two in wheelchairs and five seated guests.
• 2 ambulances